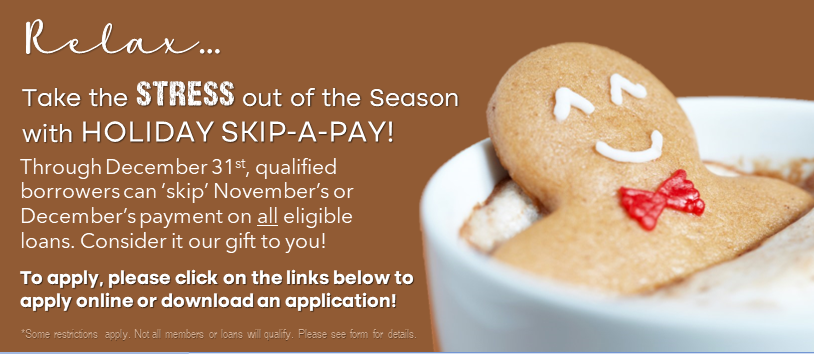 Start Your Holiday Today!
Ready or not here they come! The holidays are right around the corner don't let them sneak up on you. Are you asking yourself how you're going to afford your holiday gifts for family and friends? Your local and friendly The Credit Unon for All is here to help. We proudly offer you the opportunity to Skip-A-Pay on all of your eligible The Credit Union for All loan payments.
Put some extra cash in your pocket this holiday season by skipping your November or December payment now and moving it to the end of the loan.
Skip-A-Pay applications are available online or at the branch. The deadline to apply is 12/31/2023.
Mortgage products and Visa credit cards do not qualify for the Skip-A-Pay program. There is a $30 fee per application for loans with payments up to $250 and a $40 fee for loans with payments over $250, which will be returned if your application is not approved. Minimal underwriting requirements apply. See form for complete details.